INSOLVENCY AND BANKRUPTCY
With the emergence of Insolvency and Bankruptcy Code, 2016, there is a tremendous reform in the bankruptcy and insolvency process in India. The processes which took ages to conclude on insolvency / bankruptcy, are now simplified and expedited, ensuring fair negotiations between Debtor and Creditor by removing the asymmetry of debt and default information, with the support of institutional infrastructure involving:-
The Insolvency and Bankruptcy Board of India (the Regulator)
Debt Recovery Tribunal and National Company Law Tribunal (the Adjudicating Authorities) Insolvency Professionals.
They control and manage the assets of the debtor and ensure that they are
protected while negotiations take place.
Insolvency Professional Agencies. They admit the Insolvency Professionals as the Members and ensure such Members' Code of Conduct.

Mr. R. Ramakrishna Gupta, Senior Partner of R&A  Associates, is a Registered Insolvency Professional.Our service offerings under this segment include:-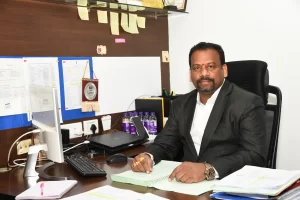 Consultancy Services on Insolvency and Bankruptcy to Debtors, Creditors and other Insolvency Professionals.
Role and responsibilities as Interim Resolution Professional and Resolution Professional:

Management of Corporate Affairs of the Corporate Debtor.
Determining the Financial position of the Debtor.
Instructing the financial institutions.
Executing Deeds, receipts and other documents of Debtor.
Execution of Contracts and modification of the existing contracts where required.
Accessing electronic Records with Information Utility
Receive and Collate all the claims.
Constitution of Committee of Creditors and conducting its Meetings.
Monitoring the assets of the Debtor including Control and Custody of assets with ownership rights.
File information collected with Information Utility, where required.
Raise interim finance with the approval of Committee of Creditors.
Determining the Voting share of the Creditors.
Preparation of Information Memorandum.
Obtaining approval from the Committee of Creditors for certain actions.
Examination of Resolution Plan and obtain approval of the Committee of Creditors.
Submission of Resolution Plan to Adjudicating Authority.
Co-ordination with the Insolvency and Bankruptcy Board of India.

Assistance in extension of period of Corporate Insolvency Process beyond 180 days.
Liquidator Services.
Fast Track Corporate Insolvency Resolution Process.
Representing the Creditor in the meeting of Committee of Creditors, where such Creditor is the member.
Appearance before the Tribunal – Adjudicating Authority.
R & A's comprehensive range of services for setting up the operations of a corporate business entity includes Business Set-Up…
Corporate Compliance Management (CCM) is the new buzz word of the industry. CCM ensures organizational efficiency…
With the emergence of Insolvency and Bankruptcy Code, 2016, there is a tremendous reform in the bankruptcy and insolvency…
A corporate organization needs to obtain various approvals from time to time from various government…
Good corporate governance system aims at assisting the management of the Company in the efficient conduct of its business..
The corporate strategists and investors require a very comprehensive information and analysis of the…
With the globe shrinking on account of the World Wide Web, cross border transactions have become the order of the present…
Consolidation of business and inorganic growth through Merger and Acquisitions (M&A) is now a regular activity in the corporate…
Companies in order to motivate / retain / reward the employees may go for the Employee stock based incentive plans…
Intellectual Property is a product of intellect that has commercial value. The privileges given to the owners of such property are called…
R & A provides clients with all necessary assistance, as required under the present legal framework, in advising…
Our services to the Banks / Financial Institutions include: u Issue of search and status reports u Advising…
R & A undertakes the analysis of Current Compliance Status, audit of Labour Law records and guides on the compliances…
Compliance Management specifically consists of policies, processes, tools and structures that help identify and manage…
R & A provides services concerning registration and on- going compliances to various non-profit entities…